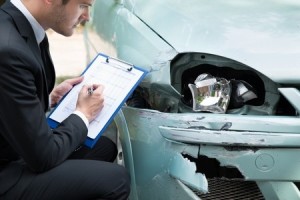 After an Oklahoma City car accident, you and your attorney will make the strongest case possible to persuade the opposing side to pay you the compensation that you need to make you whole again.
In order to do that, you want to gather as much documentation as possible to support every part of the claim that you will make against the other driver.
You need tangible proof of your claim, and that includes documents for every aspect of liability and damages related to your Oklahoma City car accident.
Police Report
First and foremost, you need to get a copy of the police report for the accident. A police report is crucial in addressing the issue of fault for the Oklahoma City car accident. It will likely be prepared shortly after the accident.
The police report will contain the names of the drivers, makes and models of the vehicles involved, as well as the date, time, and location of the accident. It will contain statements regarding any traffic code violations that may have caused the accident.
The document will also contain vital information about the scene of the accident, including diagrams, information regarding the speed of the impact, and whether you were stopped or moving at the time.
It will contain the statements of any witnesses at the scene of the Oklahoma City car accident. The report will also contain the name and badge number of the reporting officer. This could be important if the officer's testimony may be needed later in deposition or trial.
Photographs
Photographs can be very compelling evidence. A picture of the location of the accident, coupled with pictures of the damages to the vehicles taken at the scene of the accident can be very helpful.
Most cell phones have a camera function. If at all possible, take photographs at the scene.
Contusions, broken bones, neck braces, and crutches can all be compelling when it comes to proving your pain and suffering. Have someone take photographs as soon as possible after the Oklahoma City car accident.
Medical Records
Medical records contain a number of different components. Relevant records can include doctor's notes, test results including x-rays and MRI results, any emergency room records, any medications ordered, and all medical bills.
If your personal injuries were severe, it is likely that you will also need to request records from the ambulance company and EMTs at the scene of the Oklahoma City car accident.
Be sure and include all medical records and bills for any continuing care as well. Sometimes, continued physical therapy, acupuncture, or chiropractic care is required to address continued pain or mobility issues.
Documents Regarding Property Damage
These documents can be relevant to both the amount of damage your vehicle suffered and to the severity of your injuries. These documents may include photographs of your vehicle, any repair estimates that you have obtained after the accident, and the blue book value of your car before the accident.
In addition, all damaged property within the car would be included in this claim. If your computer or cell phone is damaged, for example, include pictures of the damaged items and any purchase invoices that you have.
Finally, you may be entitled to reimbursement for any rental fees incurred until your vehicle is repaired. Once liability is established, this aspect of a claim is often paid and resolved quickly.
Proof of Lost Wages
If you lost time from work because of your injuries, you are entitled to be compensated for all income lost as a result. In order to prove lost wages, you will want to collect pay stubs from before and after the accident.
If you are self-employed, you want to collect deposit slips or bank statements that can show the drop in income.
Depending on your line of work, the documents that you may need to gather may be a bit different. You need to gather all documents that can show this decreased income.
Pain Diary
As memory fades over time, you may want to keep a pain diary after the Oklahoma City car accident. This diary can show how you were affected by your injuries, and can prove to be very compelling evidence.
Free Consultation: Oklahoma City Personal Injury Attorney
If you are the victim of a car accident, contact a qualified Oklahoma City personal injury attorney to evaluate your case.
For a free, no-risk consultation with the Personal Injury Law Office of Oklahoma City, call today: 405-716-4878 (716-HURT).
If you prefer, you may send your question via e-mail using the form at the top right of this page. We'll get in touch with you as soon as possible.