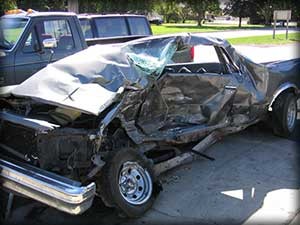 After you have been involved in an automobile accident, it is important to protect your right to be compensated for the injuries. On the other hand, it is equally important to avoid doing anything that will jeopardize your right to compensation. What follows is a discussion of a few common mistakes people make following an auto accident in Oklahoma.
Not Seeking Treatment
One of the most common mistakes people make after they have been involved in an automobile accident is not seeking prompt medical attention. Some people believe they can just tough it out and they will begin to feel better over the course of several days or several weeks. This kind of thinking is very advantageous to insurance companies, who will use the fact that you put off seeking medical attention after your accident to call into question the severity of your injuries and your claim for compensation.
Not Following Doctor's Orders
A second mistake is not complying with the medical treatment that has been recommended by the doctor. As it is when you do not seek medical attention at all, your failure to comply with the doctor's orders after an accident will be evidence for the insurance companies to use against you, and they will attempt to penalize you as much as possible for not complying with the recommended treatment. So, it is very important to follow all of the doctor's instructions and to make all of your medical appointments.
Waiting Too Long to Call an Attorney
Another mistake far too many people make after an accident is waiting too long to hire an attorney. Insurance companies have teams of individuals working to find ways to pay you as little compensation as possible. Within hours or days, they will complete a full investigation, have photographs taken of the vehicles, and interview all of the relevant witnesses. One of the first things they will do is to call you and tell you they just want to ask you a few questions, and then ask if you wouldn't mind if they record the phone call.
It is not unheard of for representatives from insurance companies to wait by your hospital bed to record your statement the moment you wake up. Don't make that mistake. You should not sign any thing or give any statement until you have spoken with an experienced Oklahoma personal injury attorney. Whatever you say can be used against you in your fight for compensation, and saying the wrong thing can jeopardize your case altogether.
So, if you have been involved in an auto accident in Oklahoma, be sure to seek prompt medical attention and comply with all of your doctor's recommendations. Most importantly, speak with an experienced Oklahoma City personal injury attorney before giving any statement or signing anything.
Free Consultation: Oklahoma City Personal Injury Attorney
For a free, no-risk consultation with a knowledgeable Oklahoma City personal injury attorney, call today: (405) 716-4878  (716-HURT).
If you prefer, you may send your question via e-mail using the form at the top right of this page. We'll get in touch with you as soon as possible. Don't wait another minute to find out what you may be owed. Call Personal Injury Law Office of Oklahoma City today!