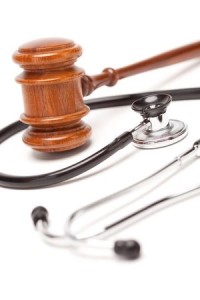 When a family member is killed in an accident, such as an auto accident, slip and fall accident, or due to medical malpractice or a faulty product, you may have grounds to seek damages by filing a wrongful death claim. Read further to learn what a wrongful death claim is in Oklahoma, who can file and what damages can be sought.
Wrongful Death in Oklahoma
In Oklahoma, wrongful death is governed by Section 1053 of the Oklahoma Statutes for Civil Procedures (12.O.S  §1053) and can be defined as the death of a person caused by the "wrongful acts" of another, whether by intent or negligence.
Examples of the most common ways in which a wrongful death occurs are as follows:
Auto accidents

Slip and fall accidents

Medical malpractice

Nursing home abuse

Work-related accident (Workplace deaths are handled differently than those that occur outside of the workplace. If the death occurs while the decedent was at work, compensation will typically be administered through the state's workers compensation system.)
A wrongful death claim only arises when the "wrongful act" that caused the death would have been grounds for a personal injury case had the person survived the accident. Thus, a wrongful death claim can be seen as a personal injury claim brought on behalf of the decedent, who cannot do so himself.
Who Can File a Wrongful Death Suit in Oklahoma
In Oklahoma, the executor or personal representative of the decedent's estate, usually a surviving family member, is allowed to file a wrongful death suit on behalf of both the deceased and his or her beneficiaries. There are, however, some limitations.
The surviving family members of the deceased may be prevented from being compensated in  a wrongful death suit under the following conditions:
If the decedent accepted a settlement for damages before he or she died.

If the decedent lived past the statute of limitations period during which he or she failed to file a wrongful death claim.

If the decedent's will stipulates that any funds accruing to his or her estate be distributed  otherwise.
Furthermore, family members are barred from suing each other in Oklahoma. Therefore, a surviving family member cannot sue another family member for wrongful death on behalf of the deceased, since he or she would not have been eligible to sue had he or she lived.
For example, a case cannot be brought by family members on behalf of a child that died due to the actions of an abusive parent, since the child would not have been eligible to bring suit against his parent had he lived.
Bear in mind, however, a wrongful death suit is a civil action and this does not preclude criminal charges being brought against a family member who causes the death of another.
What Kind of Damages Can Be Recovered in an Oklahoma Wrongful Death Suit?
There are basically two categories of damages that can be recovered in an Oklahoma wrongful death suit :
Compensation for the deceased – this constitutes ordinary damages such as pain, suffering, lost wages and damage to personal property, which the decedent could have pursued in a typical personal injury case had he or she not died.
Compensation for the survivors – this constitutes things such as reasonable burial and funeral costs, as well as compensation for the grief, emotional trauma, loss of companionship, loss of financial support that was suffered by the deceased's spouse, children, parents and/or next of kin.
In addition, Oklahoma allows punitive damages to be awarded in some cases. These are damages not awarded to compensate for some loss incurred by the deceased or his survivors, but to punish the individual(s) responsible for the decedent's death.
The Statute of Limitations For Wrongful Death Claims in Oklahoma
The statute of limitations for filing a wrongful death claim in Oklahoma are as follows:
Two years from the date upon which the death occurred,

Two years from the date upon which the cause of death was determined, for malpractice cases where the date of discovery is an issue.
An exception to these rules exist for minor children of the deceased, who have until one year past their 18th birthday to file a wrongful death case.
If a wrongful death case is not filed before the applicable statute of limitations expires, it will typically be barred from ever being filed and you will have lost your chance to ever receive damages for the wrongful death of your loved one.
Free Consultation: Oklahoma City Wrongful Death Attorney
Wrongful death cases can be very complex and quite difficult to handle. For this reason, when filing a wrongful death suit, you will have the greatest possibility of success if you are represented by an attorney who has experience handling similar wrongful death claims.
For a free, no-risk consultation with a knowledgeable Oklahoma City personal injury attorney, call today: (405) 716-4878  (716-HURT).
If you prefer, you may send your question via e-mail using the form at the top right of this page. We'll get in touch with you as soon as possible. Don't wait another minute to find out what you may be owed. Call Personal Injury Law Office of Oklahoma City today!